Toiletries
Yes, I admit, I take the hotel toiletries and have them replenish them each day I stay. If you aren't comfortable with this, please don't take them. For me, I like free stuff and I know plenty of people who need them.
So, I put them in a plastic sandwich bag. You can leave it in your purse, suitcase, backpack, or pocket and pass them to the next person you think might need it.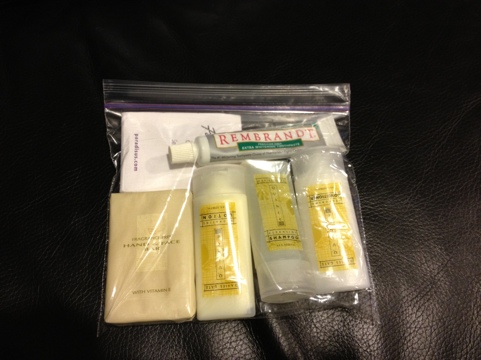 Most hotels will provide the following toiletries for your convenience and are typically refilled on a daily basis when your room is cleaned:
1. Shampoo
2. Conditioner
3. Lotion
4. Soap
Some additional items that are sometimes provided but not usually refilled:
1. Cotton balls
2. Cotton swabs
3. Shower cap
4. Sewing kit
5. Mouthwash
6. Lip balm
7. Shoe polisher
8. Emery board
If you've got status at the hotel, you may have hit the jackpot regarding toiletries. Not all hotels offer the following, but it doesn't hurt to ask:
1. Sewing kit
2. Razor
3. Shaving cream
4. Toothbrush
5. Toothpaste
6. Floss
7. Loofah/Pumice Stone
8. Ear buds
9. Nail Clippers
10. Tweezers
11. Comb
12. Hair brush
13. Sunscreen/block
14. Saline solution
15. Deodorant
16. Pocket mirror
Collect these too.
Offer the toiletries to your local shelter, soup kitchen/food pantry, or give them to the homeless people you walk past or drive by. If you're not sure where to give them to where you are, let me know and I'll help find a place or two. Feel free to give or mail them to me and I'll make sure they get sorted, bagged and sent to an organization that will dispense them to those who need them.