February 9, 2009 – 4:29 pm
so i'm a big fan of this show called The Wire. I've only finished seasons 1 and 2. But I'm hooked! I'm curious as to why it only lasted 5 seasons, but perhaps the remaining 3 aren't as good. In any case, this is a great show. For those of us who grew up in and around Baltimore, it's a magical show; bleak but magical.
I recently read an article on CNN about The Wire and the overly bleak picture the show seems to display regarding the youth in Baltimore. [ref: http://www.cnn.com/2008/SHOWBIZ/TV/12/22/the.wire/index.html] And it made me sad.
Is growing up and living in Baltimore that hopeless? No. I know. I'm a college-educated, 20-30something asian american living what most probably consider "upper-middle-class". But I grew up/worked in some of these neighborhoods.  Whenever I mention that I grew in these neighborhoods, people are shocked.
I was far privileged than many of the characters on the show, but what made me different? Joseph says that sometimes he can't understand what I'm saying when I'm back in Baltimore talking to some of the "urban locals."  So it's definitely not the way I speak.
So what makes me connect to show? ….
My parents used to own a store called "Charles Carryout". Thanks to Google Maps, I think I found it: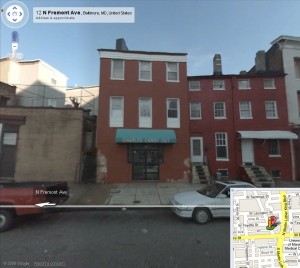 across the street used to be an abandoned lot. People used to park their cars there with no rhyme or reason.  My dad used to park our beat up 12yr old station wagon there. And next to the lot, i don't remember ANYTHING as nice as the building that is there now, which sort of looks like an office building.
My parents lived above the store. My brother and I lived there on the weekends and summers. It was just a block or so from the projects and the schools were horrible. so my brother and i lived with my grandmother during the week (more on that in a future post perhaps).
what i remember most was running from the station wagon to the store to avoid potential gun fire, lewd comments, and getting harassed. entering the doors, and still being told to run to get behind the bullet proof glass doors that were locked at all times.
my favorite memories were playing ms. pac-man and centipede with some of the neighborhood kids. the guy who owned the video game machines would give us 20+ free credits when he emptied out the bins. other memories included playing/sleeping in tents that fit over the twin sized mattresses our parents bought me and my brother. the huge dogs that lived in the backyard. i only ever got to see them from afar since they were so scary.
just a little insight into my strange but fun childhood