January 18, 2008 – 1:44 pm
we were recently disappointed with a "toy" that someone bought us. it was a little duck that you soak
in water that is supposed to grow in 72 hours. after soaking said toy in a large bowl for about 24 hours
we were disappointed in how little the toy had grown, but then we thought, directions say 72, so maybe
we just need to keep waiting. so wait we did, and it SUCKED. the duck barely grew and had this weird
moldy-like feel to it when we pulled it out of the water…disappointment turned into anger.
for a christmas white elephant, i received a dinosaur that grows from an egg soaked in water. i've yet to
try it, but i get the feeling that that will be much more successful given that the gift giver bought it at
some sort of science center type store. will update when i actually get a chance to soak that sucker
in the meantime, this looks like a fun "grow in water" toy: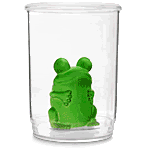 [via: RandomGoodStuff]